Resin flooring for wineries and food processing industries
Superfici Moderne offers resin floors for agribusinesses and wineries, with customizable, durable, hygienic and safe solutions that reduce production downtime and meet safety and hygiene regulations.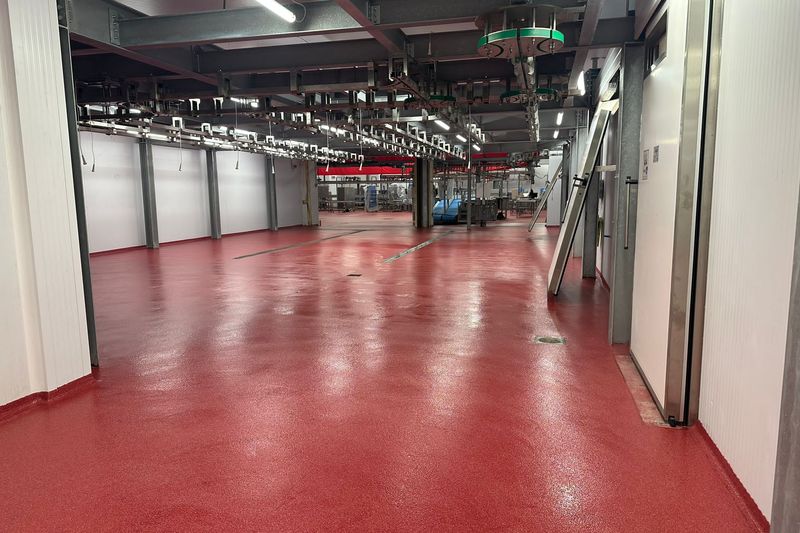 Superfici Moderne has developed solutions dedicated to food companies, including wineries and wine businesses, proposing resin surfaces suitable for all resistance and hygiene requirements . Many companies in the Veneto region have chosen the design and implementation services of Superfici Moderne in the provinces of Treviso, Padua, Vicenza, Verona, Venice, Belluno and Rovigo. We also operate for commissions throughout Italy, especially in Friuli-Venezia Giulia and Trentino.
The benefits of resin flooring for wineries and agribusinesses
For more than two decades, we have been designing and manufacturing flooring and coatings with resin formulations for companies in the food industry. Farms, wineries, wineries and agribusinesses choose resin for its unique qualities.
Strength and durability
Superfici Moderne has developed ad-hoc solutions for food and wine companies. We propose resin formulations that can resist the wear and tear of time and the action of external agents. Wine, for example, has a fair amount of acidity and can damage surfaces. With resin flooring, thanks to its chemical resistance characteristics, this does not happen.
Safety and hygiene
Resin floors made by Superfici Moderne provide a waterproof surface without joints, cracks or fissures. The coatings are easily washable and allow high standards of hygiene. Based on the sectoral scope, our technicians will be able to advise on the correct formulation to comply with health and safety at work regulations, thanks to the possibility of making non-slip surfaces for the transit of people and things. It is also possible to integrate horizontal signage to demarcate transit lanes as required by Legislative Decree 81/2008 Title V.
Reduced production downtime
Superfici Moderne, using state-of-the-art techniques and machinery, is able to complete resin resurfacing or resurfacing projects in a short period of time. This ensures reduced production downtime while maximizing return on investment. The quality of raw materials and the expertise of our employees are one of Superfici Moderne's strengths.
Customizable and compliant surfaces
Resin surfaces can be customized in aesthetic appearance. Resin makes it possible to combine technical needs (dictated by the scope of use) with the aesthetic demands of the client. Resin floors are therefore the most suitable solution for wineries and farms open to the public, because they combine practicality and style