Resin flooring for industry
Superfici Moderne designs and manufactures resin flooring for industry, characterized by excellent chemical and physical properties, wear resistance and ease of cleaning. Compliance with safety regulations for companies where hazardous materials are processed is guaranteed.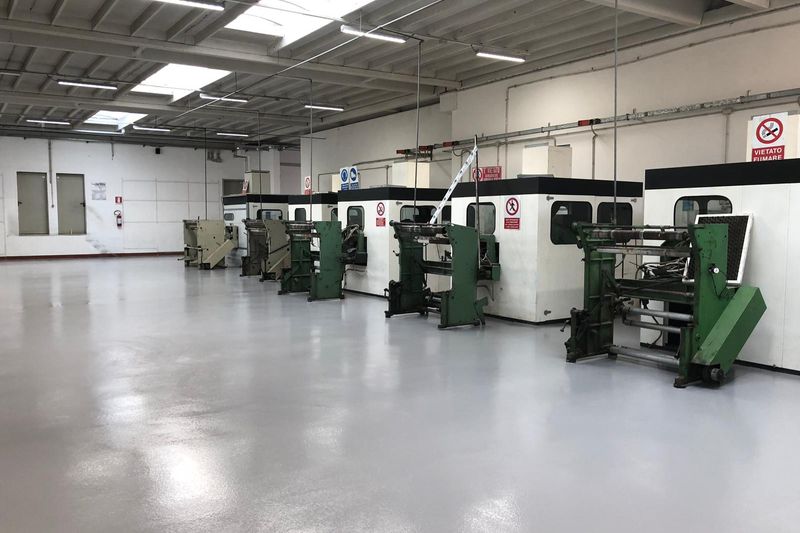 Our resin flooring/h2>
Industrial resin flooring is characterized by excellent chemical and physical properties. They are distinguished by excellent performance, wear resistance and ease of cleaning . Resin floors are ideal for any business that requires transport vehicle traffic, such as warehouses and businesses.
A resin floor is both durable and flexible, and is therefore ideal in all applications involving mechanical stresses and strains. Engineering industries, logistics companies and enterprises prefer resin because of its resistance to heavy vehicle transit and the weight of machinery.
The benefits of resin flooring for industry
We design and manufacture flooring and coatings with resin formulations as per UNI 8297. Superfici Moderne has been operating for more than twenty years in the industrial construction sector, particularly in the provinces of Veneto (Treviso, Padua, Vicenza, Verona, Belluno and Rovigo) but also in Friuli-Venezia Giulia, Trentino and, in general, throughout Italy.
Strength and durability
A properly formulated resin floor becomes an ideal surface in the industrial environment, where the coating is often subjected to high stresses. For example, in industries, the flooring is subjected to considerable mechanical stress because it must support very heavy machinery and vehicles.
Minimized plant downtime
The techniques adopted by Superfici Moderne make it possible to reduce downtime due to resin floor fabrication. The construction of resin flooring requires minimal time, and greatly decreases costs due to idle production facilities. Resin floors from Superfici Moderne, formulated and made by experienced personnel, are durable and guaranteed over time, so as to reduce the need for costly maintenance work.
Compliance with safety standards
A resin floor is made of a flame-retardant epoxy polymer that has an excellent fire resistance rating. For companies where hazardous materials are processed, such as warehouses of flammable or explosive materials, conductive floors are available that can be grounded to make an antistatic surface. Superfici Moderne also makes non-slip coatings for industrial, commercial and sports environments. Horizontal markings in contrasting colors can also be integrated to delimit transit lanes, both of self-propelled vehicles and pedestrians, as required by Legislative Decree 81/2008 Title V.