Resin flooring for residential properties
Superfici Moderne offers resin flooring for residential buildings. They offer aesthetic versatility, ease of cleaning, speed of fabrication, safety, and are suitable for restorations.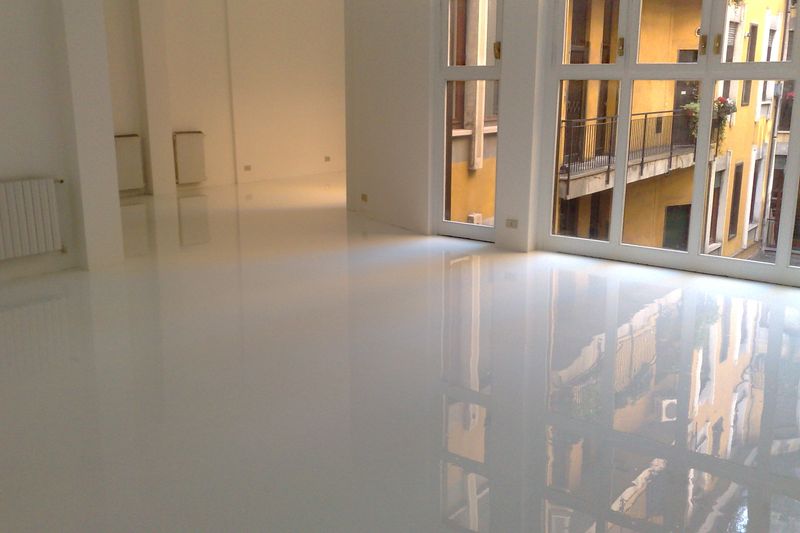 Resin floors are an original and modern solution for public and private residential buildings. The minimal and neat appearance of a civil flooring can be adapted to the rest of the environment by acting on color, finish and opacity. In this way, all the advantages of resin work can be achieved while embellishing the living environment.
The benefits of resin flooring
We design and manufacture flooring and coatings with resin formulations as per UNI 8297 standards, for industrial and commercial construction depending on the activity that will be carried out on them taking into account chemical and mechanical stresses and the final aesthetic impact.
Aesthetic versatility
Our technicians will be able to recommend the best formulation to make the flooring based on the customer's requirements. Each project requires an individual study related to the desired aesthetic and functional requirements. Endless combinations of colors, materials and finishes are available.
Easy to clean and safe
Resin floors constitute a surface without joints, cracks or crevices. The materials used are waterproof, thus allowing a high degree of cleanliness to be achieved. They are also fire retardant and resistant to the adverse action of aggressive chemicals. Resin surfaces are durable and suitable for all usage scenarios.
Quick to make
The construction work of Superfici Moderne is aimed at minimizing the inconvenience caused by the unusability of the rooms. Depending on the materials chosen at the design stage and the finish sought, it will be possible to walk on the new flooring a few hours after the work is completed.
Perfect for a restoration
Resin coatings are perfect for a renovation. Upon inspection by one of our trained technicians, the new resin floor can be made directly over the existing floor. Costly refurbishments can thus be avoided. Resin floors are also compatible with underfloor heating systems.
Resin can also be used in homes with underfloor heating, as it promotes heat diffusion.