Resin flooring construction
For more than two decades, Superfici Moderne has been making state-of-the-art resin flooring for a wide range of applications.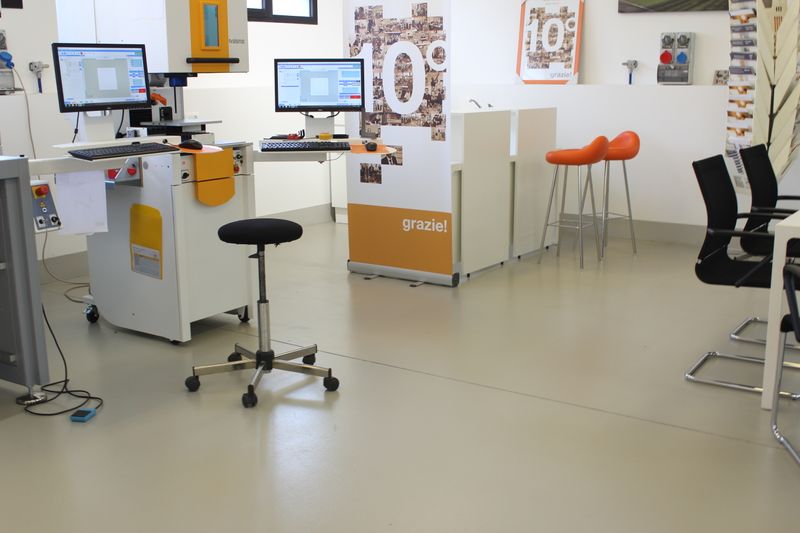 Resin flooring for any business
With more than two decades of experience in the resin flooring industry, Superfici Moderne has developed an in-depth knowledge of the fabrication methods and formulation processes of resin materials, providing its customers with certainty of outcome.
The presence of Superfici Moderne in the resin coatings market is evidenced by the large number of completed projects throughout Italy. Our resin floor design and construction activities are mostly concentrated in Veneto (provinces of Treviso, Padua, Vicenza, Verona, Rovigo and Belluno), Friuli-Venezia Giulia and Trentino.
Types of resin surfaces made by Superfici Moderne
Industry

Resin floors from Superfici Moderne for industry are wear-resistant, chemical-resistant and suitable for heavy vehicle transit.

Wineries and agribusiness

Resin coatings for the food industry must meet the stringent requirements of current safety and hygiene regulations.

Parking lots, garages and workshops

Superfici Moderne makes resin floors suitable for vehicle traffic and equipped with road markings, symbols and lettering.

Business activities

Resin surface coatings in commercial environments are customizable in appearance and easily sanitized.

Hospitals and outpatient clinics

Easy to wash, hygienic and suitable for the strictest sanitary standards, resin floors Superfici Moderne are perfect for hospitals and clinics.

Residential real estate

Superfici Moderne offers an extensive catalog of finishes, colors and processes to apply resin coatings in civil and residential environments.
The benefits of a resin floor
Resin floor and surface coating provides a number of unique benefits among all building materials. Learn about the services of Superfici Moderne.
Increased mechanical strength of the substrate
Dustproof effect
Quick and easy cleaning
Customizable surface in color and finish
Suitable for contact with aggressive chemicals
Available in antistatic and fireproof material
Suitable for heavy vehicle transit
Compliant with current regulations
Signage and graphics in the surface
Non-slip properties
Reliable over large areas